June 21, 2017
TO: Anuja Vaidya
FROM: JC Smith, MA, DC
RE: Response to your article in Becker's Spine Review:
'Spine surgery never works' — 7 spine surgeons on how to approach common misconceptions
Seven spine surgeons weigh in on the most common stigmas surrounding spine surgery and how they deal with patients who misconstrue spine care.
Good morning, Anuja Vaidya:
I enjoyed your article, but found there were many problems with the questions as well as the answers given, so as a 35-year chiropractor and journalist, let me respond.
First of all, "misconstrue spine care" may be inaccurate considering people can see the failed back surgery patients among their friends and family. Perhaps surgeons, not patients, are those who misconstrue this issue as the following research studies suggest.
Enjoy my response to the points made by the surgeons.
Question: What are some common misconceptions patients have about spine surgery and how do you correct those assumptions?
 Again, I find it most interesting that public opinions about back surgery are considered "misconceptions." Do the surgeons think these misconceptions arise from nowhere, ignoring the studies and the public surveys? People know what's happening despite the surgeon's denial.
Alden Milam, MD. Spine Surgeon at OrthoCarolina (Charlotte, N.C.): The most common misconceptions are "spine surgery never works" and "many people are worse after spine surgery."
Dr. Milam obviously failed to read a few incriminating studies:
Chien-Jen Hsu, MD: "By far the number one reason back surgeries are not effective and some patients experience continued pain after surgery is because the [disc] lesion that was operated on is not, in fact, the cause of the patient's pain."[1]
HL Rosomoff, MD: "Low back pain in the population at large is not usually a surgical problem and the chances of there being significant pathology requiring surgical or other forms of intervention may be less than 1% of those affected…"[2]
Zoher Ghogawala, Yale neurosurgeon: "I see too many patients who are recommended for fusion that absolutely do not need it."[3]
Jeffrey C. Wang, MD. Co-Director of the USC Spine Center at Keck Medicine of USC (Los Angeles): The most common misperception is that spine surgery does not work. There is clear evidence that spine surgery for definitive pathologies is beneficial, and for many problems, superior to conservative treatments with outstanding outcomes.
Once again, the research refutes the hyperbole offered by Dr. Wang:
In 2010, a study, Manipulation or Microdiskectomy for Sciatica? A Prospective Randomized Clinical Study, compared the clinical efficacy of spinal manipulation against microdiskectomy in patients with sciatica secondary to lumbar disk herniation (LDH) found "Sixty percent of patients with sciatica who had failed other medical management benefited from spinal manipulation to the same degree as if they underwent surgical intervention."
Edward Rustamzadeh, MD, PhD. Spine Surgeon at Premier Brain and Spine Institute (San Jose, Calif.): Unfortunately, spine surgery has one of the worst stigmas associated with a specialty in all of medicine. I believe this has to do with the misinformation that is readily available to patients at a click of a keyboard.
While fake news is rampant on the internet, there are also legitimate studies to be found, such as:
A 2012 study in the British Journal of Pain, The Economic Impact of Failed Back Surgery Syndrome, found up to 50% of patients may have an unsuccessful outcome following lumbar spinal surgery. The impact of FBSS on an individual's health-related quality of life and its economic cost to society are considerable and more disabling than other common chronic pain and chronic medical conditions, such as heart failure and motor neuron disease.
 Dr. Wang: "If it isn't the internet or social media, then there are the patients who I see in my clinic who either know of someone who has had spine surgery or have heard of someone who had spine surgery with a poor outcome… We as humans will more readily accept the worst possible outcome than entertain the possibility that we are wrong in our assumptions."  
He is correct spine surgeons are wrong in many of their assumptions.
For example: Nancy Epstein, neurosurgeon and editor at Surgical Neurology International (SNI), suggested, "Increasingly, patients, spine surgeons, hospitals, and insurance carriers should not only be questioning whether spinal operations are 'unnecessary', but also whether they are 'wrong' (e.g., overly extensive, anterior vs. posterior operations) or 'right' (appropriate)."
Kern Singh, MD. Co-Director of Minimally Invasive Spine Institute at Midwest Orthopaedics at Rush (Chicago): Some of the biggest misconceptions that I hear about spine surgery are that it doesn't work or that there is a high risk of complications.
 In fact, there is a high risk of complications:
A 2017 study, Prevalence, characteristics, and burden of failed back surgery syndrome: the influence of various residual symptoms on patient satisfaction and quality of life as assessed by a nationwide Internet survey in Japan, to assess the prevalence and characteristics of failed back surgery syndrome (FBSS) found 1842 lumbar surgery patients revealed the prevalence of FBSS to be 20.6%. The prevalence of low back pain, dull ache, numbness, cold sensations, and paresthesia after surgery was 94.0%, 71.1%, 69.8%, 43.3%, and 35.3%, respectively.
Another problem is the deceptive ads promoting "minimally-invasive" laser disc surgery. This new gimmick comes despite the lack of scientific evidence over the past twenty years, the lack of disclosure of potential adverse events, or any mention of the extraordinarily high re-operation rate of 38% of patients who required open disc surgery after laser decompression failed to relieve their symptoms.[4]
Another study, More nerve root injuries occur with minimally invasive lumbar surgery, especially extreme lateral interbody fusion: A review, found "MIS (TLIF/PLIF/ALIF/XLIF) lumbar surgery resulted in a higher incidence of root injuries, radiculitis, or plexopathy versus open lumbar surgical techniques."
Plas T. James, MD. Spine Surgeon at Atlanta Spine Institute:            I think the public's perception to spine surgery, in general, is apprehension. I think it happens because of the history of spine surgery. In the past 15 or 20 years, a lot of spine surgery was done by people who weren't trained in the discipline of spine surgery.
 While Dr. James may be correct, he ignores the "elephant in the operating room" unmentioned by these spine surgeons—the debunked 'bad disc' diagnosis as the primary cause of back pain that came to light in research 27 years ago but remains invisible:
Scott Boden, MD, of the Emory Spine Center said: "The vast majority of people with back pain aren't candidates for disc surgery."[5]
Raj Rao, M.D., director of spine surgery in the Department of Orthopaedic Surgery at the Medical College of Wisconsin:  "You can look at the MRIs of two people, both showing degenerative discs, but in one case there is little to no pain, while in the other, extreme pain. On the other hand, you can see a healthy spine but the patient has severe pain."[6]
MRI research by Scott Boden and Sam Wiesel in 1990 found "bad discs" and age-related pathologies in pain-free people. This controversy came to light again in November, 2014, when the Mayo Clinic released its review by Waleed Brinjikji, MD, and his colleagues, "Systematic Literature Review of Imaging Features of Spinal Degeneration in Asymptomatic Populations."[7] This Mayo review found a consensus among 33 MRI studies from around the world that undermines the rationale for fusion surgery based solely on this 'bad disc' idea that is used to lure unsuspecting patients into disc fusion surgery.
The Mayo Clinic review was clear that 'bad discs' were part of the normal aging process, highly prevalent in people of all ages, often unassociated but coincidental with pain, and did not alone constitute the need for surgery or needle jockeys:
"Our study suggests that imaging findings of degenerative changes such as disc degeneration, disc signal loss, disc height loss, disc protrusion, and facet arthropathy are generally part of the normal aging process rather than pathologic processes requiring intervention."
J. Brian Gill, MD. Spine Surgeon at Nebraska Spine Hospital (Omaha): Some common misconceptions that I hear from patients are that back surgery does not work and people are worse than where they were prior to surgery.
To the contrary, research suggests the majority of spine fusion patients cannot return to work after two years of recovery:
The Anderson study concluded:
"Our study is support of the conclusion that DDD is a questionable indication for spinal fusion. Given the generally poor outcomes of this study, future studies should determine if lumbar fusion surgery is an effective treatment modality in similar patients."[8]
Brian R. Gantwerker, MD. Founder of the Craniospinal Center of Los Angeles: Unfortunately, one of my favorite Bulls players from the 90s dynasty, Steve Kerr, had a really difficult time and continues to have problems. Many patients' first words are: "I don't want to have surgery." That's fine and I don't get discouraged. Their common misconception is that I am going to want to operate on them before they even sit down for the consult. I take my time, get updated studies and make sure the indications are there. And a majority of the time, I don't operate on them.
As a 35-year chiropractic practitioner myself, let me ask Dr. Gantwerker if he recommends hands-on spinal manipulation before surgery? Perhaps Coach Steve Kerr could have avoided failed back surgery if he had tried chiropractic beforehand.
According to an April 24, 2017, article in the Washington Post, How Agonizing, Persistent Back Problems Are Threatening Steve Kerr's Coaching Career: "Kerr has tried everything, including conventional medicine, yoga, meditation, marijuana, exercise and sheer willpower. Nothing has worked."
Oddly, no mention of chiropractic care despite the numerous guidelines recommending this brand of spine care before surgery—perhaps another example of chirophobia (medical bias against chiropractors) or the lack of informed consent to tell patients of their options to surgery.
According to the American College of Physicians guidelines, before surgery is considered (except for the red flags), patients should be treated first with conservative care such as spinal manipulation, acupuncture, massage therapy, to name a few of CAM methods.
Another "elephant in the room" ignored by these spine surgeons was any mention of chiropractic care that has now been shown to be helpful to avoid surgery in the first place as well as helpful for FBSS victims after their surgery:
A 2016 study by James Cox et al., Chiropractic Distraction Spinal Manipulation on Post-surgical Continued Low Back and Radicular Pain Patients: A Retrospective Case Series, examined 69 post-surgical continued pain (FBSS) patients who afterwards received Cox Technic Flexion Distraction (CTFD). Results showed greater than 50% pain relief following CTFD chiropractic distraction spinal manipulation was seen in 81% of post-surgical patients receiving a mean of 11 visits over a 49-day period of active care. At 24-month follow-up, of 56 patients available, 44 (78.6%) had continued pain relief of greater than 50% and 10 (18%) reported 50% or less relief.

A 2011 study by RA Kruse and J Cambron, Chiropractic Management of Post-surgical Lumbar Spine Pain: A Retrospective Study of 32 Cases, showed improvement for patients with low back pain subsequent to lumbar spine surgery who were managed with chiropractic care including Cox flexion distraction technique. A change was observed in the mean pretreatment and post-treatment Numeric Pain Scale (NPS) pain scores of 6.4 to 2.3, a reduction of 4.1 of 10. The mean number of treatments was 14, with a range of 6 to 31. When stratified by surgical type, the mean change in pain was most remarkable in patients who underwent a surgery that combined lumbar discectomy, fusion, and/or laminectomy, with an average NPS pain reduction of 5.7 of 10. No adverse events were reported for any of these post-surgical patients.

The clinical-effectiveness of chiropractic care over medical spine care was also shown in a Washington State workers' comp 2013 comparative study that found for patients whose first provider was a chiropractor, only 1.5 percent had surgery in contrast to 42.7 percent of workers who went through the typical medical system (drugs, shots, surgery) inevitably had surgery.[9]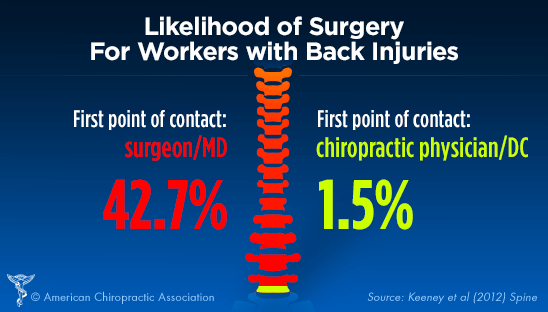 Not only are many patients misdiagnosed, often mistreated, and routinely misinformed about chiropractic care, they are not told there is a chance of natural reduction for many herniated discs and to wait before surgery:
Not only are many herniated discs able to heal without intervention, patients are also rarely told by MDs there are effective nondrug and nonsurgical multidisciplinary treatments available by conservative care practitioners as the guidelines now recommend:
Just Say No!
With this litany of research supporting SMT and conservative care over medical spine care, the call for a moratorium grows louder and explains why on April 26, 2016, the Medical Journal of Australia InSight newsletter published, Spinal Fusion Surgeries Questioned, was painfully clear on the need to slow the tsunami of back surgeries with a moratorium as many other spine leaders have urged:
"Spinal fusion surgeries for chronic low back pain are on the rise, despite the lack of research to back their efficacy, and experts are now calling for tighter guidelines, including a waiting period."
Even the renowned medical curmudgeon, NM Hadler, MD, author of Stabbed the Back, mentioned the need for a moratorium:
"Prominent investigators from various disciplines have taken pen in hand and published articles in very prominent medical journals calling for a rethinking of the use of surgery in regional low back pain, if not a moratorium on laminectomy/discectomy with or without fusion."
I realize your Spine Review is primarily written to encourage medical spine care treatments, but in light of this litany of research, don't you think you should write more "fair and balanced" articles?
I would enjoy your response this article.
Regards,
JC Smith
---