The Price of Pain
"The pen may be mightier than the sword,  but it is not mightier than the dollar."
NM Hadler, MD, author of Stabbed in the Back[1]
Not only is there a huge social cost of chronic pain to society in terms of addiction, disability, and deaths, the annual national economic cost associated with chronic pain is estimated by the Institute of Medicine to be $560–635 billion (an amount equal to about $2,000 for everyone living in the United States). Acute and chronic pain affects large numbers of Americans, with at least 116 million U.S. adults burdened by chronic pain alone.[2]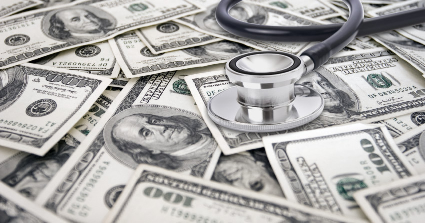 This estimate combines the incremental cost of health care ($261–300 billion) and the cost of lost productivity ($297–336 billion) attributable to pain. The federal Medicare program bears fully one-fourth of U.S. medical expenditures for pain; in 2008, this amounted to at least $65.3 billion, or 14 percent of all Medicare costs.
In total, federal and state programs — including Medicare, Medicaid, the Department of Veterans Affairs, TRICARE, workers' compensation, and others — paid out $99 billion in 2008 in medical expenditures attributable to pain. Lost tax revenues due to productivity losses compound that expense.
The international business of illegal narcotics produces around $400 billion each year, which accounts for almost 10% of all worldwide trade.[3] This "invisible addiction" of the non-medical use of opioid painkillers by those who have become addicted costs health insurers up to $72.5 billion annually in direct health care expenditures.[4]
The broader prescribing of opioids has led to a significant increase in rising insurance expense, hospitalization, incarceration and rehabilitation. Just as the opioid epidemic raging across the country is killing thousands every year, abuse of heroin and prescription pain pills is having a drastic economic impact on the total price tag for care. 
An average hospital stay for an opioid abuse patient cost about $28,000 in 2012. The number leaps to $107,000 if there was an associated infection from dirty syringes. The cost to hospitalize those with opioid abuse or dependence problems has more than tripled in a decade, up to nearly $15 billion in 2012. Similarly, the number of patients hospitalized has surged by more than 72 percent, reaching 520,000 in 2012.[5]  
The Profit of Pain
Although a huge financial burden to society, the drug cartels and dealers continue to profit. Indeed, whether pushed or prescribed, the drug economy far exceeds the imagination of everyone as the monies involved in the illicit  and legal drug trafficking is one of the largest sectors of the modern global economy.
To be sure, Big Pharma is wealthy beyond the belief of most people and doles out plenty of money to increase its market revenues. Global pharmaceutical sales reached $1.1 trillion in 2014.[6] In 2001, worldwide revenue was around $390.2 billion. Ten years later, this figure stood at almost one trillion U.S. dollars. It is estimated by 2020 the pharmaceutical market will increase to around $1.4 trillion.[7]
The top ten Pharma companies in 2013 earned over $441 billion in sales.[8] Johnson & Johnson was ranked first with a net income of approximately $16.3 billion. Opioid painkillers for back pain brought in $17.8 billion, and OxyContin alone made $3 billion in 2010.[9] Since 1996 when it was introduced, by 2015 Perdue had earned more than $27 billion on sales of OxyContin alone.[10]
In 2014, prescriptions for pain medication totaled 480 million in the United States and ranked third in total prescriptions. Antihypertensive medications ranked first at 705 million prescriptions. Mental health medications ranked second at 537 million. Antibacterials ranked fourth at 267.[11]
Tired of TV Ads?
The pharmaceutical industry is pouring billions more into new TV and print campaigns. Worldwide pharmaceutical industry spending was nearly $71 billion in 2014.[12]
In the U.S. alone, ad spending soared more than 60 percent in the last four years, hitting $5.2 billion last year.[13] In 2012, the pharmaceutical industry spent more than $27 billion on drug promotions— more than $24 billion on marketing to physicians and over $3 billion on advertising to consumers (mainly direct-to-consumer (DTC) television commercials).[14] By 2015, Big Pharma spent $3.7 billion on DTC television campaigns and $5.2 billion overall including magazine, newspaper, radio, outdoor and cinema ads.
And it's not slowing down considering nine prescription drugs are on pace to break $100 million worth of TV ad time in 2016. The makers of the top 20 best-selling prescription drugs bought a collective $29 million worth of ads on the History Channel last year, $12 million on the Food Network and $8 million on Animal Planet.
 The advertisers of the top 20 best-selling drugs directed two-thirds of their TV ad spending last year on just four networks — broadcast titans CBS ($511m), ABC ($296m), NBC ($250m), FOX ($128m) and all other TV ($607m). [15]
Obviously the media networks have no interest to expose or criticize the amount of advertisement monies paid to them by Big Pharma despite the implications of
As everyone can see on TV, other than trucks, beer, erectile dysfunction, and chronic arthritis/joint/muscular pain ads dominate with clever sales pitches and beautiful actors (notwithstanding the arm's length of side effects).
"Drug marketing has had a tremendously negative influence on back care across the United States," according to editor Mark Schoene. "Aggressive drug marketing was, of course, a major driver of the opioid overtreatment, addiction, and mortality crisis. It has played a role in up to 500,000 deaths."[16]
Instead of referring these non-specific mechanical back pain patients to chiropractors and other nondrug providers, people have grown to expect prescription painkillers as the standard of care, not realizing the long term damage and ineffectiveness of these drugs. There is simply too much power, pride and prejudice in the medical profession to admit its shortcomings in this pandemic of chronic pain.
"Dollars for Docs"
The price of pain has extended to most MDs who are bribed to push drugs with other inducements. Over 90% of physicians have some relationship with the pharmaceutical industry, from contacts with drug representatives to research collaborations.[17] Moreover, many doctors are rewarded with gifts, trips, speaking fees and other inducements to prescribe particular drugs or use medical implant devices.[18]
In an effort for transparency, the Affordable Care Act requires pharmaceutical and medical device companies to release details of their payments to a variety of doctors and U.S. teaching hospitals for promotional talks, research and consulting, among other categories. The results were shocking.
According to an article "Dollars for Docs" in ProPublica, $3.53 billion in disclosed payments was paid to 681,432 doctors by 1,630 pharmaceutical and medical device companies in just five months from August 2013 to December 2014.[19],[20] $3.53 billion extrapolated over the entire year equates to $8.4 billion of influence.
Not only are MDs bribed, the FDA also has its hands in the pockets of Big Pharma. The FDA increased its budget by $821 million, making its proposed 2014 budget a hefty $4.7 billion. Out of the extra $821 million, 94 percent or $770 million would come from user fees that are paid by the drug companies to hasten the review and approval of their products.[21]
Rubber stamping drugs on the fast track is the quid pro quo deal that may explain why the FDA without explanation approved OxyContin for kids.[22] To the astonishment of many addiction professionals, the FDA in 2014 also approved another new opioid product, Zohydro, in easily crushed capsules that contain up to 50 milligrams of pure hydrocodone; that's 10 times more hydrocodone than a regular Vicodin. One capsule is enough hydrocodone to kill a child. An adult lacking a tolerance to opioids could overdose from taking just two capsules.[23]
The FDA approved Zohydro over the strong objection of an FDA advisory committee that voted 11-to-2 against it. More than 40 medical organizations signed a letter to then FDA Commissioner Margaret Hamburg urging her to keep Zohydro off the market to no avail. Apparently $770 million speaks louder than expert opinion.
Indeed, the drug cartel – Big Pharma, MDs, pharmacists, researchers, the FDA and the medical reporters in the commercial media – has no interest to see any restrictions imposed that may decrease this lucrative drug market despite the addiction, despair or deaths their products have caused. It has become the price of pain extracts from the public.
Capitol Capital
The price of pain also extends to our legislators. NM Hadler, MD, wrote in his book, Stabbed in the Back, "The pen may be mightier than the sword, but it is not mightier than the dollar,"[24] and Big Pharma has plenty of dollars to wield its sword on Capitol Hill.
As we know in Washington DC, money equates to power.
Little do people know the medical-industrial complex spends four times as much on lobbying as the No. 2 Beltway spender, the much-feared military-industrial complex[25], which explains one reason why Harper's Magazine once called the AMA as "the most terrifying trade association on earth."[26]
According to OpenSecrets.org, the annual lobbying on health legislative issues in 2015 was $381,223,403 ($712,567 per congressman) of which Big Pharma alone spent $178,863,490 ($334,324 per congressman).[27] The total spent in 2015 was down from $556,002,269 ($1,039,256 per congressman) at the height of the Obamacare debate.
The total contributions by health professionals to federal candidates and parties amounted to $70,377,772 ($131,547 per congressman) for the election cycle ending in 2014. The AMA alone contributed $19,650,000 in 2014 ($36,728 per congressman). In comparison, all chiropractic contributions amounted to a paltry $527,832 ($986 per congressman).
Indeed, there is simply too much money for Congress to criticize either Big Pharma or the medical dealers who pad their pockets.
Medical White Collar Crime
Actually, this onslaught of prescription opioid painkillers should be viewed as another white collar crime, or should I say, a "white coat" crime that has affected millions of Americans with addiction and killing nearly 17,000 annually.
The blame of this opioid tragedy is quite clear according CDC Director Tom Frieden, MD, MPH, when he admitted, "The prescription overdose epidemic is doctor-driven."[28] It is also Big Pharma-driven; together this medical-pharmaceutical alliance is shockingly similar to the Wall Street scandal of 2008.
Moreover, these medical perpetrators have gotten off Scot-free, reminiscent of the Wall Street bankers who caused the economic recession in 2008 were nonetheless rewarded with zero-interest bailouts and huge year-end bonuses. None of these white collar criminals went to jail while millions of blue collar Americans suffered lost jobs, lost savings and lost homes.
Now we witness a similar situation with the opioid scandal sweeping America that has also destroyed lives, families, and created the worse case of drug addiction ever seen. Yet we see the same lack of punishment of the white coated medical professionals and white collared Big Pharma executives making billions while orchestrating this "health recession."
(This article is an excerpt from JC Smith's upcoming book, The Media War Against Chiropractors. Enjoy his website, Chiropractors for Fair Journalism.com)
[1] Hadler, NM, Stabbed in the Back; confronting back pain in an overtreated society, University of North Carolina Press, 2009, pp. 88
[2] http://iom.nationalacademies.org/Reports/2011/Relieving-Pain-in-America-A-Blueprint-for-Transforming-Prevention-Care-Education-Research.aspx
[3] Illicit Trade and Drug Trafficking Proving to be a Major Problem, http://www.123helpme.com/preview.asp?id=63042
[4] OxyContin: Purdue Pharma's Painful Medicine by Katherin Eban @FortuneMagazine, November 9, 2011
[5] Marty Stempniak, Opioids Contribute to a Sharp Rise in Hospitalizations, Health Care Costs, Hospital and Health Networks, May 5, 2016
[6] Global drug sales to top $1 trillion in 2014: IMS, Reuters, Apr 20, 2010
[7] Statistics and facts about the pharmaceutical industry worldwide, Statistica, http://www.statista.com/topics/1764/global-pharmaceutical-industry/
[8] Eric Palmer, The top 10 pharma companies by 2013 revenue, Fierce Pharma, March 4, 2014, http://www.fiercepharma.com/special-reports/top-10-pharma-companies-2013-revenue
[9] Rafia S. Rasu, BPharm, MPharm, MBA, PhD; Kiengkham Vouthy, PharmD; Ashley N. Crowl, PharmD; Anne E. Stegeman, PharmD; Bithia Fikru, PharmD, MPA; Walter Agbor Bawa, MS, PharmD; and Maureen E. Knell, PharmD, BCACP, "Cost of Pain Medication to Treat Adult Patients with Nonmalignant Chronic Pain in the United States," Vol. 20, No. 9 September 2014 JMCP Journal of Managed Care & Specialty Pharmacy
[10] "Purdue Pharma has privately identified about 1,800 doctors who may have recklessly prescribed the painkiller to addicts and dealers, yet it has done little to alert authorities," by Scott Glover and Lisa Girion, Los Angeles Times, August 11, 2013
[11] Statistics and facts about the pharmaceutical industry worldwide, Statistica, http://www.statista.com/topics/1764/global-pharmaceutical-industry/
Pharma Digital Investment is Increasing, But Still Only 3-6% of the Total Promotional Spend, Pharma Marketing Blog, November 13, 2015, http://pharmamkting.blogspot.com/2015/11/pharma-digital-investment-is-increasing.html
[13] Cegedim Strategic Data, 2012 U.S. Pharmaceutical Company Promotion Spending (2013), http://www.skainfo.com/health_care_market_reports/2012_promotional_spending.pdf.
[14] Ibid.
[15] Rebecca Robbins, Drug makers now spend $5 billion a year on advertising. Here's what that buys, STAT, March 9, 2016, https://www.statnews.com/2016/03/09/drug-industry-advertising/
 

[17]
 

Campbell

 

EG. Doctors and drug companies—scrutinizing influential relationships. N Engl J Med. 2007;357:1796–1797. [PubMed]

[18] Dana J, Loewenstein G. A social science perspective on gifts to physicians from industry. JAMA. 2003;290:252–255. [PubMed]

[19] Tim Lahey, The High Costs of "Free" Drug Samples Clin Transl Gastroenterol. 2014 Dec; 5(12): e67. Published online 2014 Dec 18. doi:  10.1038/ctg.2014.16

PMCID: PMC4274368

[20] Lena Groeger, Charles Ornstein, Mike Tigas, and Ryann Grochowski Jones, Dollars for Docs, ProPublica. Updated July 1, 2015, https://projects.propublica.org/docdollars/

[21] http://articles.mercola.com/sites/articles/archive/2013/05/01/fda-budget-increase.aspx

[22] C Waismann, FDA Approves OxyContin for Kids: Could Lifelong Addiction Follow?

August 19, 2015

[23] Andrew Kolodny, M.D., "Zohydro: The FDA-Approved Prescription for Addiction," The Huffington Post, March 6th, 2014

[24] Hadler, NM, Stabbed in the Back; confronting back pain in an overtreated society, University of North Carolina Press, 2009, pp. 88

[25] Steven Brill, What I Learned From My $190,000 Surgery, TIME, Jan. 8, 2015

[26] M Mayer, ibid. p. 76.

[27] http://www.opensecrets.org/industries/lobbying.php?cycle=2016&ind=H

Someone You Know?

[28] Robert Lowes, CDC Issues Opioid Guidelines for 'Doctor-Driven' Epidemic, www.medscape.com, March 15, 2016